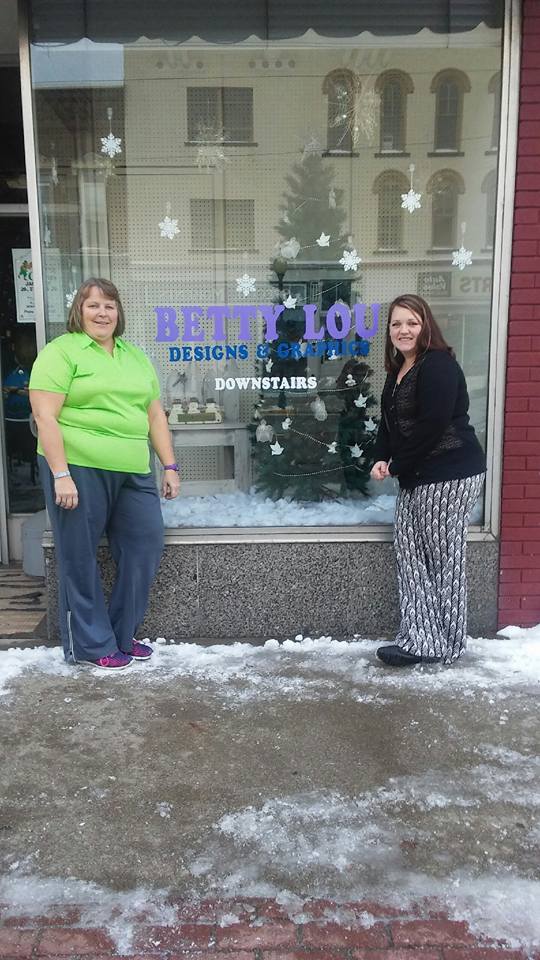 Our Location
We are located in Kendallville, Indiana at 106 S. Main St in the Basement of Weible's Paint.
Our Story
In early 2016, the long-time owners of Stien Designs & Graphics in Kendallville, Indiana, told their customers they were going to retire.  One of their customers, Monica Corbin, had always been interested in crafting and sewing, so she thought it might be a nice lifestyle change. However, she realized it was not feasible for her to operate the business on her own.  After talking with her friend Andrea Beachy and realizing that Andrea had past experience with screen printing, the two decided to give it a shot.  Betty Lou Designs & Graphics is the result of their efforts (and is named after a combination of their middle names, Betty and Lou).
Meet the Team
Monica Corbin
Co-Owner
Monica brings her crafting and sewing background to Betty Lou's and handles all of the store's embroidery requests and mot of the artwork manipulation.  She and her husband Phill have been married for over 25 years and have 4 wonderful children. Michaela (23) and Mackenzie (21) both graduated from East Noble High School.  Michaela is currently enrolled at IU in medical school and Mackenzie attends Hanover College.  Her younger children, Kyler (15) and Keegan (12), currently are students in the East Noble school district.  Give Monica a call today to discuss your embroidery options.
Andrea Beachy
Co-Owner
Andrea Beachy brings her experience in screen printing to Betty Lou's.  She not only coordinates all the store projects involving screen printing, but also takes care of engraving projects, which can be done on metal and plastic surfaces.  Andrea and her husband Todd have been married since 2002 and have 2 wonderful kids, Ethan (14) and Kora (12), who are students in the East Noble school district.  Call Andrea today to order your engraving projects.